Meet the Concept
Here you can read more about the concept behind Smart Stories project and how it gave life to all the features available.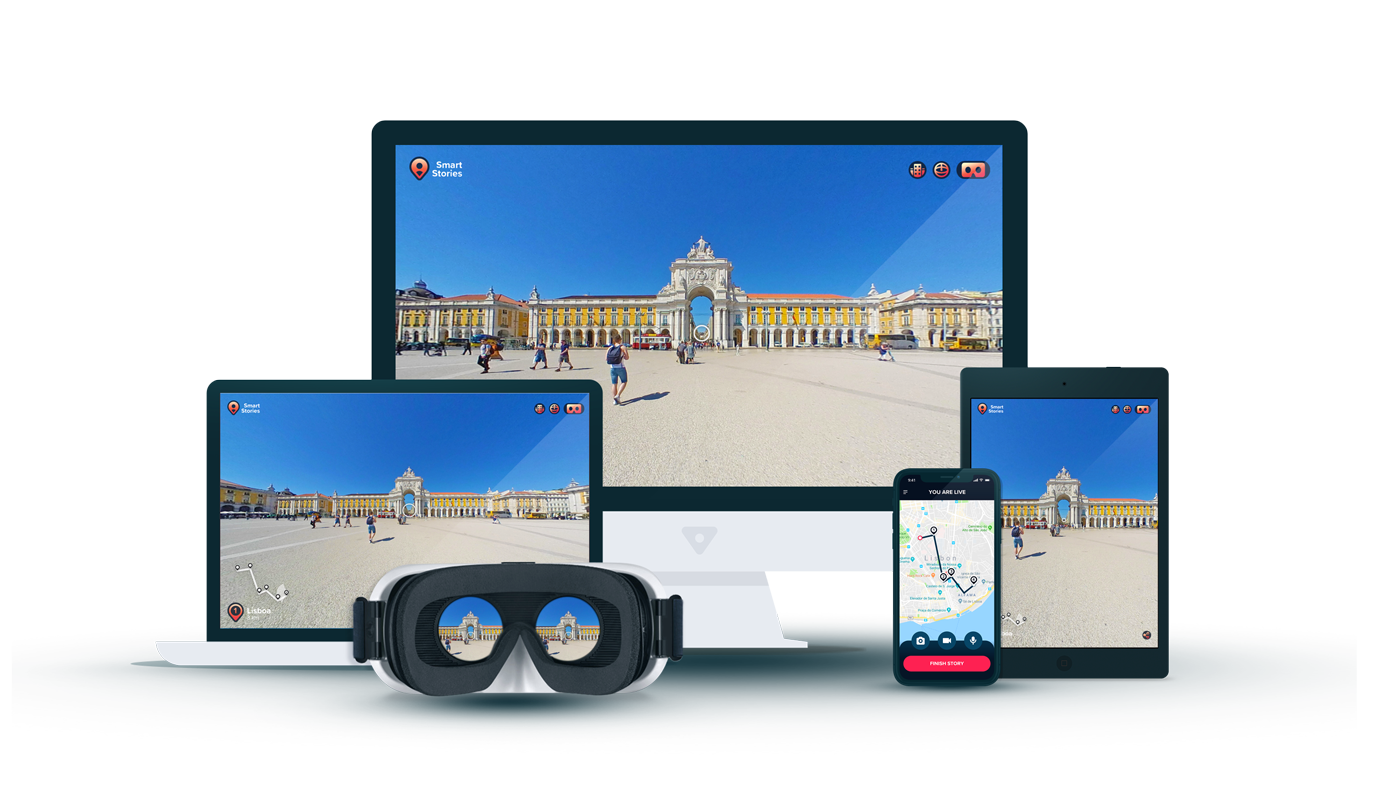 The main idea:
Automated Virtual Reality
The main idea behind Smart Stories is to record the information gathered through sensors and radars available on smart vehicles and through Bluetooth devices such as the 360° camera and microphones, and view it in an automatically registered story.
All the data and media is collected in a mobile App that automatically generates a virtual tour and a video with the summary of a certain route (Story), which can be shared or saved. This App is also used for visualization of routes (Stories) made and shared by other people in Virtual Reality. It allows traveling virtually, following a route either by using a map that displays the geographic location or through hotspots available when you open the 360° view.
Stories can be registered automatically or in a customized mode, with the flexibility of importing or exporting routes and being able to share them easily. In automatic mode, the user starts his route freely and the App automatically records the information of the sensors and devices. The App then determines what information to record and when to record, using Artificial Intelligence.
In the customized mode, it is possible to choose between record options and set the route path (Story) by importing a route or by creating one at the moment. You can create a route by searching on the map for suggested points of interest nearby the user and/or from friends' Stories. Furthermore, the App has a practical Calendar to plan these Stories according to the start date of the trip.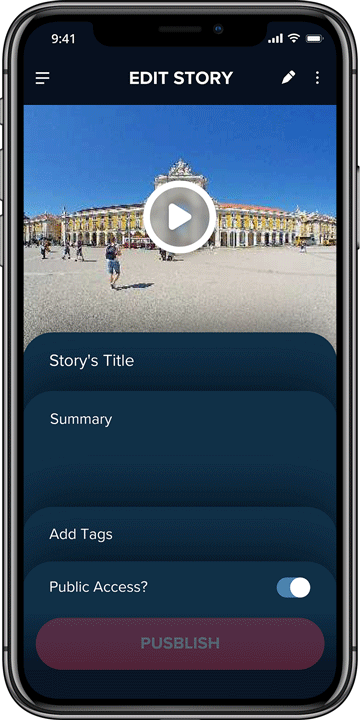 Automatically generated video
After connecting the 360° camera and all desired devices and sensors, it takes only a voice command or a click on the button in the App — Start Story. When the user has finished his route, the Story will be processed to create a unique visual experience. This is made possible by the ability of the Smart Stories system to understand when there are worthy highlights on the route, from the data it collects.
In the final stage of the Story, the user will always have the possibility to review and edit the information shown, whether it's a Story to publish or to save for private use. Below you can find two examples of an automatically generated video: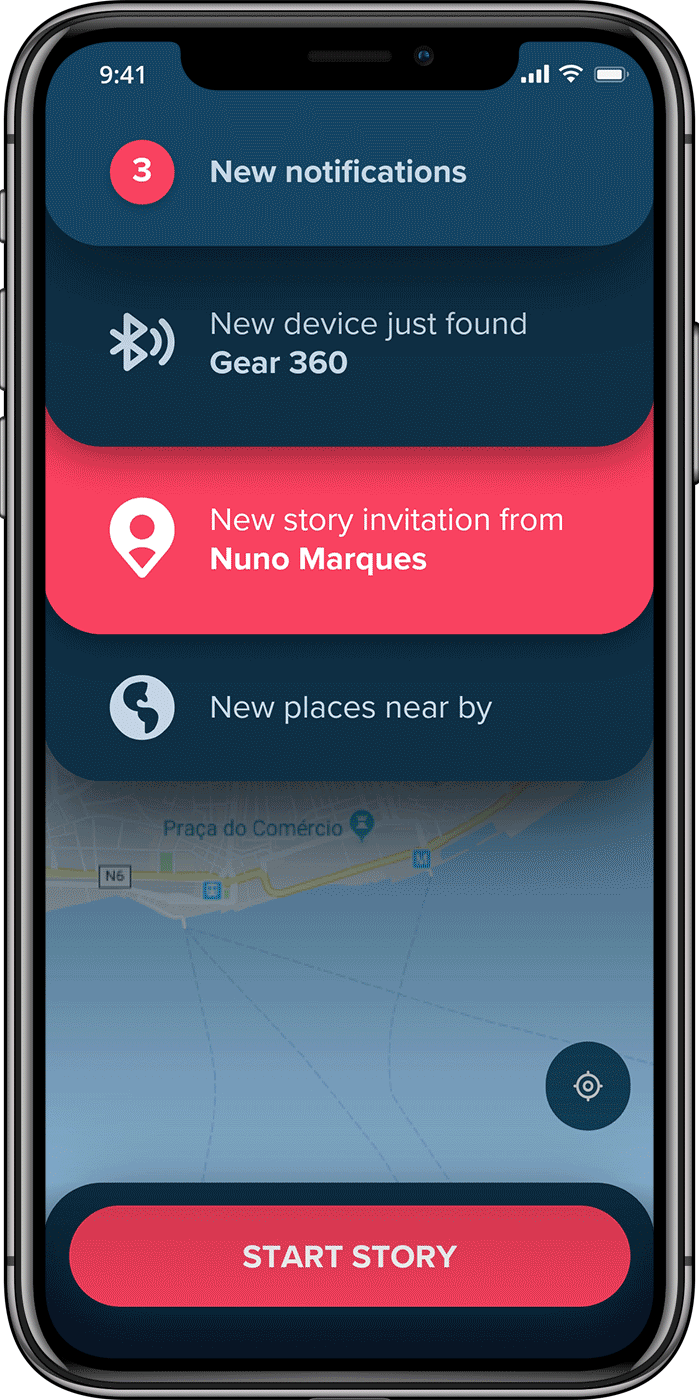 Communication between devices
This diagram below shows how various devices communicate and gather data in the mobile App, with or without the user's input. This is the way the information will be processed for the creation of Stories, ready-made to share or to see them in Virtual Reality (WebVr).
Diagram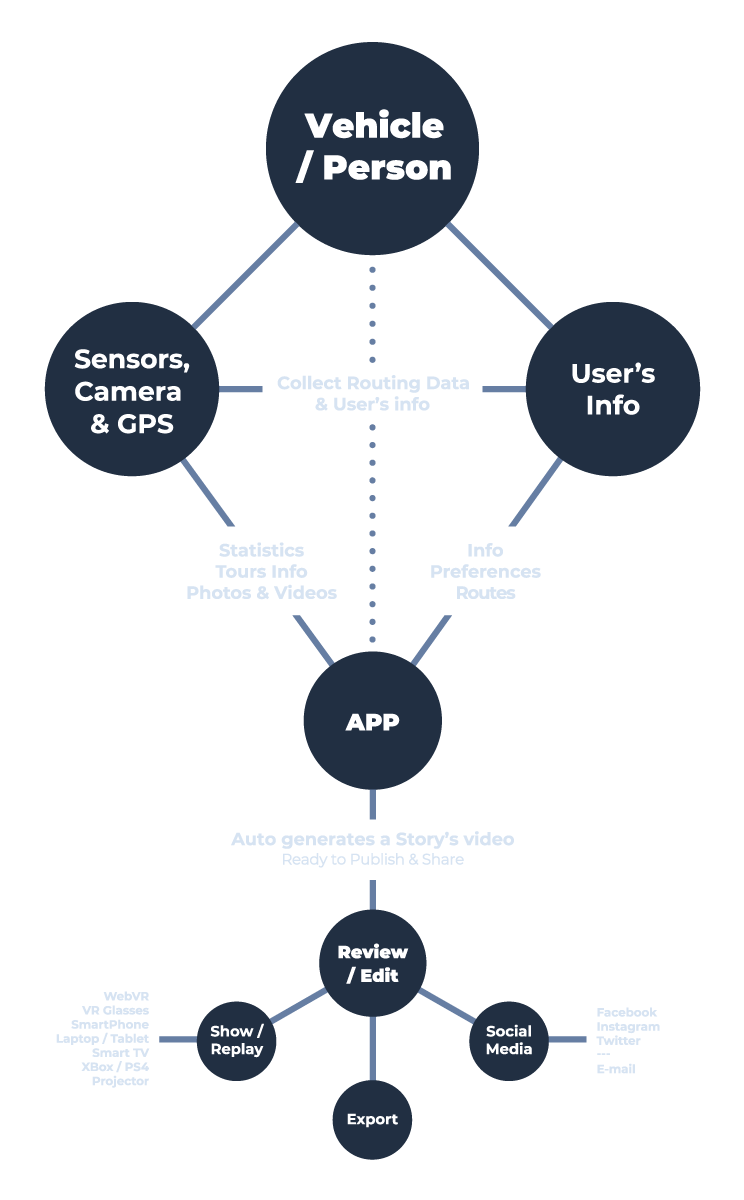 Product usage scenarios
The following scenarios are used to sketch potential user profiles and product usage. They serve to idealize, conceptualize and visualize the minimum functionalities necessary to include in product design and development. The summary of this case study is shown below.
Daily Life
This couple uses the Smart Stories App to record their road trip and easily share a 360° video with friends and family.
Game Developers
This team is developing a VR game, in which it is possible to travel virtually through the main capitals of the world.
Scientists
A team of scientists intends to collect daily geo-data from a particular region in the Plitvice Lakes National Park.
Snowboarder
He intends to obtain virtual stories where it can fully show his paths and complementary information.
Daily life
A couple makes a weekend road trip from Lisbon to the West Coast of Portugal by car. They have already a 360° camera and intend to record on multiple stops using the Smart Stories App. Their main goal is to share automatically generated videos of their trip, accompanied by a geolocation map, with friends and family. Accordingly, they save their Stories to their personal digital album.
Game Developers
A team of Game Developers is developing an innovative Virtual Reality game, in which it is possible to travel virtually through the main capitals of the world. They've tried using Google Maps when starting their project, but they were not happy with the results. They searched and found that with the Smart Stories App, they can track the route they want in 360° and collect additional information through sensors and devices and their own voice comments. Accompanied by an HD 360° camera, the Smart Stories App provides them with the perfect Virtual Reality environment to work with. Smart cars would in this case be a great help to automatically gather all the information over wide distances.
Scientists
They intend to make an analysis of this information in the long term, in order to understand the geophysical changes at a micro territorial level. They want to see climate change throughout the record. They will do this analysis through their vehicles, where each one will be responsible only for part of the route. They have two smart vehicles with a built-in 360° camera and other normal vehicles, which serve as support in traveling. This team has an extra 360° camera to be used as photographic recording in places with difficult access for vehicles. In the end they intend to trace their route with the Smart Stories and be able to "travel in time" in each of the geographical points. In addition, at the end of each day they will publicly publish an automatically generated video with the summary of that day. They would like to engage more people interested in this subject and broaden access to this data.
Snowboarder
A professional Snowboarder has used several Apps to register his routes, but has not found yet an App that allows him to track the route and simultaneously show the places he has passed. He intends to obtain virtual stories where it can fully show his paths and complementary information. He would like to know his minimum speed, maximum speed and average speed. In addition, it intends to make available on his social networks the altitude of these virtual stories. He has a 360° video camera attached on his helmet, on top of his head. To obtain additional information he uses a "smart" thermal jacket, which already has some sensors connectable by "Bluetooth". He heard of the "Smart Stories" and got in touch with the development team, so they can work together and develop and improve these features. As a bonus element, he wants also to obtain his Stories automatically, whenever he finishes a stage of a particular course. He wants to share those "Auto-Stories" videos on "Instagram" to promote his activity and get more sponsors.
User story example
This example shows how a Story is viewed on a mobile device. It is possible to interact with the content and information available on the screen, as well as the interaction on the virtual world through the device's gyroscope. This can be seen live on the video below, recorded through an android smartphone in WebVR.